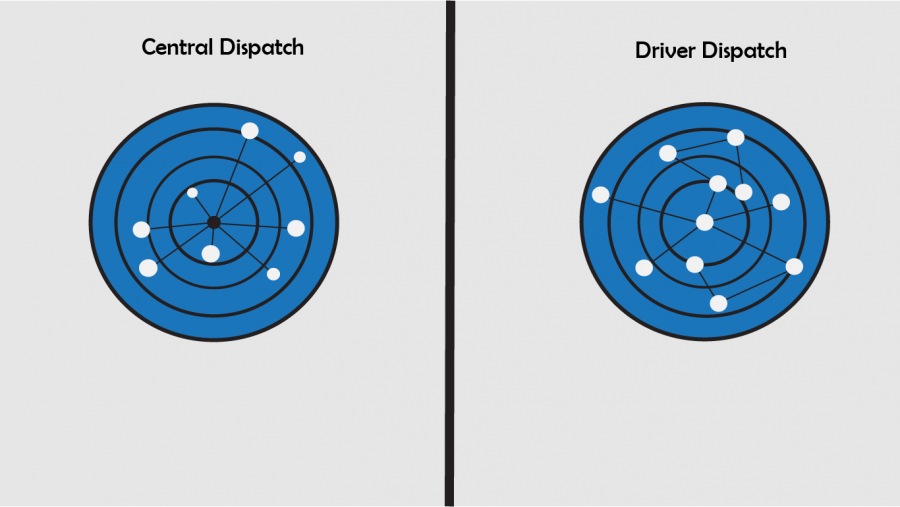 Centralized Dispatch VS Driver Dispatching
  A centralized dispatch would be a set department that is the key point contact for incoming calls or emails from customers and their company drivers. This contact may be requests for orders to be hauled from one location to another, report requests, and ticket copies. The dispatching department may contain a single person on call 24/7, or a team of dispatchers scheduled out for weeks or months in advance. Whatever the case, a well experienced and knowledgeable dispatching team is essential for the operations of many bulk commodity haulers. Dispatch Commodity provides the software solution that focuses on improving the efficiencies of your day-to-day operations.
  The capability to let drivers self-manage a company dispatch has both pros and cons. For a smaller company consisting of mainly owner operators, it might not be feasible to have a dedicated employee for load dispatch. This means that either the carrier owner should come up with a process or procedure to ensure that the loads are being hauled in a timely manner or risk losing business and efficiency. With companies ranging in the 5-10 driver range, it is most common for the business owner to act as the dispatcher to guarantee loads are dispatched to right drivers at the right times. This can get to be a lot to handle if company owners also drive their own truck for their living.
  Dispatchers use a plethora of hardware and software to complete their daily tasks. Most commonly around the industry, we find dispatchers are mobile. Dispatchers get in their vehicles, use equipment like laptops, printers, and most importantly cell phones. They must be ready at moment's notice to answer a call or email and keep the drivers hauling their contracted loads. Field dispatchers may not have all the equipment they need to fulfill the dispatch request. They contact their supervisors, colleagues, or even their software providers for assistance with the task at hand. Dispatch Commodity has established a hybrid model of owner dispatching and driver call procedures to help ease the load for carriers trying to get their trucks rolling. What we recommend depends on the type of loads being hauled by the carrier. If there is a set number of loads with the same route per day, then our multi-dispatch feature allows dispatchers to create and dispatch multiple loads within minutes. Carriers can quickly send out a daily dispatch, and if any changes need to be made, then our 24/7 customer service can make those changes i.e., ticket corrections, reroutes, or rejected/declined loads. If a carrier receives loads as they are available and must make quick dispatches as they arise, we normally recommend that drivers call into the help desk support line and request these loads be created through either our customer support team or through the carrier owner/dispatcher. Our dispatch software can be accessed on mobile devices with only a web browser, but this can become harder for working carrier owners that are in the field driving their own trucks.
  The tipping point for needing a dedicated central dispatch normally happens around the 10+ driver range for most carriers. With Dispatch Commodity's dispatch software being flexible enough to allow it to be ran through a web browser, a dedicated office is not necessary. Flexibility has become increasingly important for employers during Covid-19, and Dispatch Commodity has added features and functionality making it easier than ever to use our system in any environment. Centralized dispatch takes a lot of pressure off carrier owners allowing them to focus on growth and contract acquisitions to expand the business. The biggest downside in the past was the necessity of having a brick-and-mortar office space to have employees work in person daily. With work from home company models being more mainstream, this reduces that overhead cost. Having an additional employee on the payroll is still a good-sized investment for a company starting new. One of the biggest factors in getting a return from investing in central dispatch is the speed at which a dispatcher can take over the daily back-office tasks. Driver dispatch while not complicated can even be a daunting task for a complete beginner. Dispatch Commodity offers hands on training for new employees to get them acclimated to the software as fast as possible. Combined with our standard 24/7 support, it can help new dispatchers with any ongoing questions and allow carrier owners to get back to their business operations fast.
  Dispatch Commodity has helped numerous customers grow their businesses from small owner operator carriers to carriers operating in multiple states with hundreds of drivers. We pride ourselves on our flexibility in both pricing and operational assistance for smaller carrier owners to maximize growth. We know that no business is the same and we develop bulk commodity transport software solutions to fit your business needs. Don't waste time with big software companies that push cookie cutter plans with poor customer support and high prices. Give Dispatch Commodity a call today and let us help grow your business today!
Read our article about being a dispatcher using dispatch commodity.