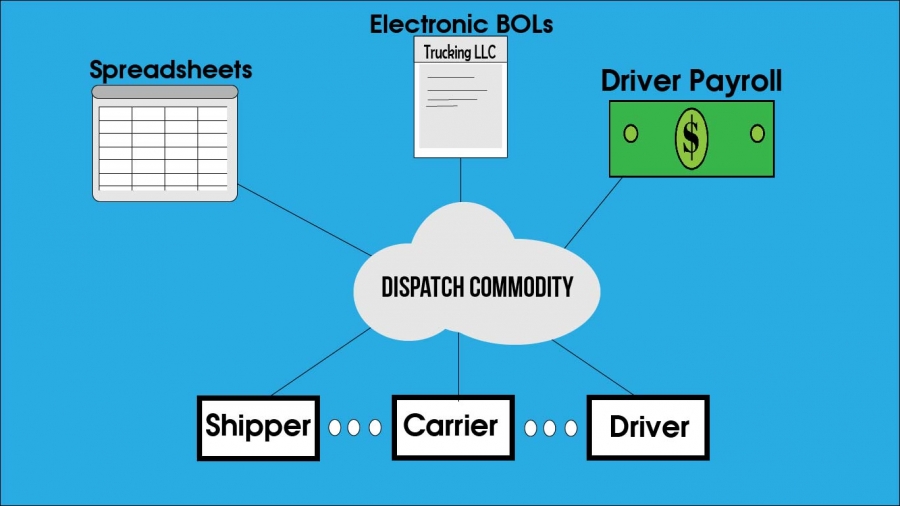 Driver Settlement Software | Trucking Payroll Software
Driver Settlement Software | Trucking Payroll Software
   Ever wonder if your dispatching and electronic ticketing software could do more to help your daily business operations? Dispatch Commodity offers a customizable, driver settlement software solution to help with the organization of the costs of transportation logistics. With the settlement and PriceBook feature, Dispatch Commodity created three levels of Shipper (Customer), Carrier (Owner Operator), and Driver (Payroll). Each level can be linked to the previous level of settlement with Shipper as the first level and then subsequent relationship levels of Shipper & Carrier, Carrier & Driver. The option to customize the link between the levels creates the ability to add in only one PriceBook and thus cascade all the rates through the other two levels. This flexibility makes your settlement process faster and easier so you can get your invoicing done with a few clicks instead of pouring over multiple spreadsheets and hand keying data.
   Control of your invoices is important for any trucking business. Making sure that your customers and drivers get paid on time every time can be difficult to do but we want to help make it easy. Dispatch Commodity has the features you need to audit and review your invoices and payroll exports within the settlement process! Our settlement and finance management features allow the user to make the process of shipper settlement, carrier settlement, and driver settlement as specific as your business requires. Each level of settlement uses detailed rates based on the best match criteria of the rate. The settlement software can also be configured to general flat or all-encompassing rates for the freedom to make financial adjustments on the fly. For instance, if you run a route that has a rough road fee you can set a rate in Dispatch Commodity for that specific route, and it will apply to that load automatically when you invoice. On that same note with our Approval feature, if there is an instance that the rough road fee does not need to be applied, then simply override the charge, and continue with your invoice.
   Our system is flexible enough to have custom rules and exceptions to those rules for those specific scenarios that can happen out in the field. Fuel Surcharges (FSC) are becoming more popular with the rise in fuel prices and Dispatch Commodity supports multiple different rating methods to fit whatever FSC model your business uses. Once the initial FSC model is set up, Dispatch Commodity can check the PADD pricing for your region and automatically add the correct charge to your loads. Driver payroll is easier than ever with Dispatch Commodity. Once you settle your driver invoice, we can automatically send out driver pay statements directly to the drivers, so you no longer must micromanage your driver payroll.
   Do you have issues with multiple loads being billed and customers sending invoices back for corrections? Dispatch Commodity's Settlement Batching prevents double billing of orders. Only one order record or entry can be settled per level of settlement. Once the orders have been rated and adjusted to the user's specifications, they can be settled into a batch. The batch process locks the orders from being edited by any other users who might have access to make changes to the orders. The orders are marked with a linked batch number on each order details for quick analysis of the batch information.
   What if there was a connection between your accounting software and your dispatching software?
Dispatch Commodity offers exports through our robust report center feature allowing custom reports that match your customer's invoicing templates. It is as easy as selecting the export option, selecting the invoicing template, and clicking export! Some customers require a header with the company information at the top of the invoice. Dispatch Commodity uses the latest integration software to customize templates for each type of exported report. Exporting an invoice to the customer specifications has never been easier. We want to enable you to work with any preexisting software or customer specific systems. To achieve this, we have created highly customizable data exports that allow you to send customers ticketing or financial data in formats ranging from excel spreadsheet to PDF copies of the electronic BOLs. We even allow FTP file transfers for direct uploads of ticketing data to your customers that can be set to run automatically. Would you like to know more? Give us a call today to discuss your business needs and how Dispatch Commodity provides you the custom solutions to fit those needs!
Check out our article on reporting software here.