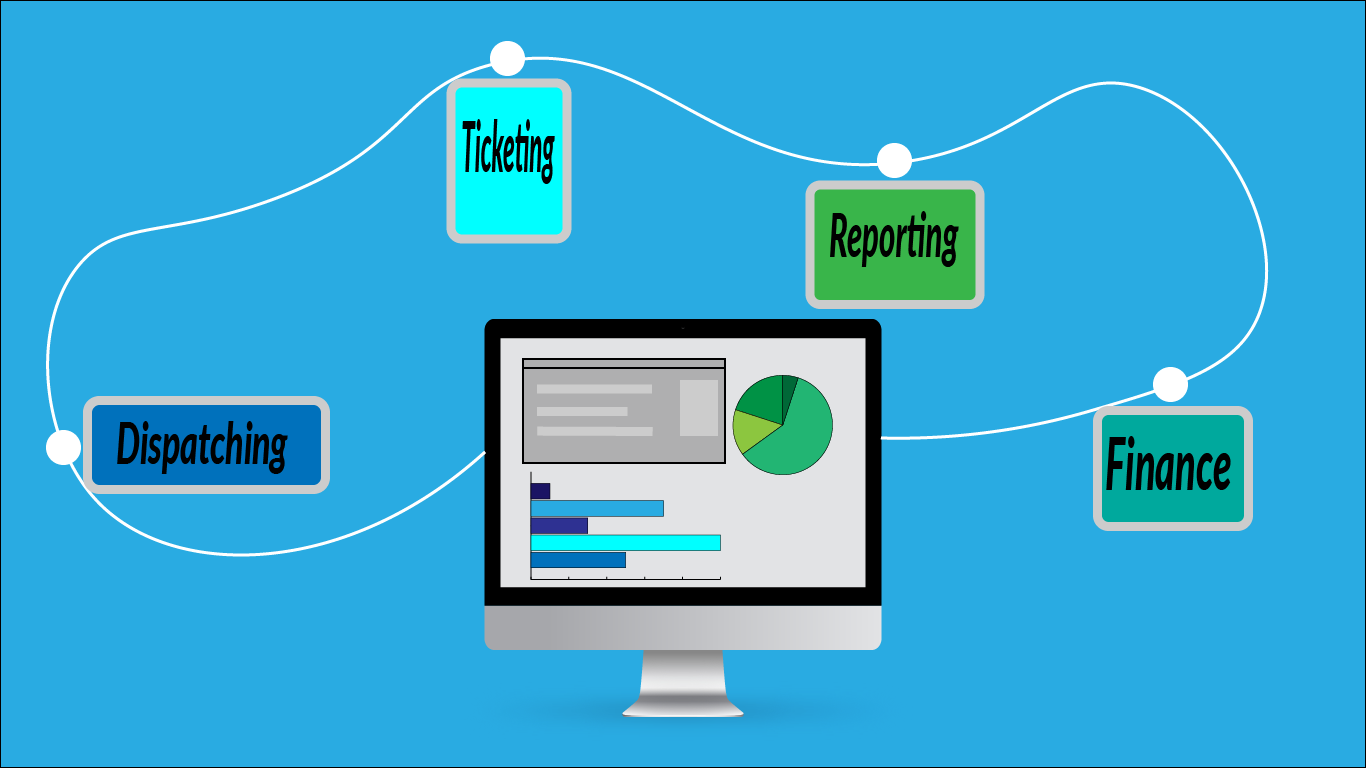 Trucking Software Essentials
Finding the right software for your trucking company can be difficult and expensive. There are a few TMS (transportation management software) systems that manage most if not all the core functions to run a trucking company. With such a large variation of requirements for software depending on what your trucking company hauls and the distance you haul it, TMS systems normally are positioned towards a particular market. This means that you may still need additional software to manage certain tasks. You may also want trucking software that is flexible enough to integrate with your software while managing most tasks needed to haul your bulk commodities. Here are our picks for trucking software essentials to focus on when looking at a TMS system.
Dispatching is one of the most essential features to focus on when it comes to trucking software. TMS systems will have a form of dispatching software to offer, but again depending on the size of your trucking company and the type of hauling you do you will need to look for distinctive features. In general, you will want software that offers a simple interface and can be accessed easily via a web portal or designated mobile application. Being able to remotely view dispatches and alter loads as they happen is additionally important.
Ticketing Software
Ticketing is one thing that will have the most variables contingent on what products are hauled. Ticketing requirements can vary per customer, product hauled, distance hauled, the number of stops made, etc. Ideally, users want a TMS system that is flexible enough to manage multiple ticketing formats and handle changes to those formats quickly. Being able to meet a customer's ticketing requirements quickly can be the deciding factor in if a trucking company gets the business or not. Having a flexible field deployment system for the ticketing software is important as well. Other ticketing software requires use of specific hardware that can only operate their software. This leads to higher equipment costs. Having a mobile or web application that can run alongside other software products on a variety of devices allows the user to get the most out of the hardware.
Reporting allows insights into your trucking company and can help improve productivity. It also can allow customers better visibility and reassurance that their loads are transported in a timely fashion. Look for a TMS system that allows for customizable reports and automated sending or exporting. Furthermore, make sure that there is not a cost associated with report building or report alterations. Having a simple interface that empowers the users to easily view data and update reports can make a dramatic difference in reporting capabilities. You do not want to be stuck waiting or paying for any report building or changes when you could have customers needing quick access to data.
Sending out accurate invoices on time to customers is vital. TMS systems tend to specialize in this area as well since it is one of the more complex tasks for a software system to manage. As a bare minimum, users should confirm the software is able to generate invoices based on various rates and pricing that can either be exported directly to customers or manually adjusted to fit a certain format. One feature that has become more important recently is the ability to calculate a fuel surcharge fee to account for the rising cost of diesel fuel. Unfortunately, the way these fuel surcharge fees are calculated can be difficult. Finding a TMS system that offers a flexible rating system that can meet a customer's requirements for their FSC fees means less time running manual calculations or the need for integration with other third-party software. Having the ability to manage everything from customer invoicing to driver payroll all within the same TMS system simplifies back-office work and increases efficiency.
Dispatch Commodity covers all the essentials mentioned here and can expand features as the market changes. We focus on making a TMS system that is flexible and responsive enough to manage the variety of diverse needs your trucking company may need. Give us a call today and we can show you how our software is the perfect fit for your business.